Spring Newsletter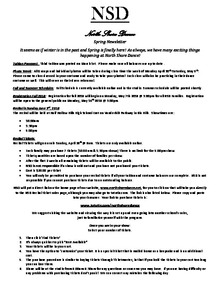 PDF
NSD GOES ON TOUR RECITAL 2018
PDF
TICKET PURCHASE GUIDLINES
PDF
NSD GOES ON TOUR 10:00AM SHOW
PDF
NSD GOES ON TOUR 1:30PM SHOW
PDF
NSD GOES ON TOUR 5:00PM SHOW
PDF
2018 Recital is Sunday, June 3rd
Welcome to North Shore Dance!
January Newsletter
PDF
Photo Week April 30th - May 5th
Group and individual photos will be taken during class time during the week of 4/30-5/5.  Please come to class dressed in your costume & ready to take your photos!  Each class will also be practicing their dance in costume at this time as well.  This will serve as their dress rehearsal.  More info to follow
Welcome Back!
Classes begin
Monday, September 11th!
The performances at NSD are spectacular! Many of the teachers and staff have performed professionally, this makes for a very enjoyable performance to watch. Not to mention the professionalism of their students. Each year the choreography, scenery, and music gets better!